Sunday 26th February was Day 3 of National Junior League at Milton Keynes.
With Westfield players Adam Koszyk and Tor West-Ley away in Cardiff respresenting Northamptonshire, Lucas Turnbull-Stubbs kindly stepped in.
Our first match of the day was against Banbury, who had been promoted from Division 3. This turned out to be a very close match and Banbury's number one player - Toby Dow - proved to be the difference between the two teams, as he won all three of his matches. Lucas played well for his two wins and Ben and Gabi both beat the Banbury number 3.
Final score: Banbury 5, Westfield 4.
Our second match was against CGS, whom we had played in the previous round. Good performances from Ben and Lucas saw them both record maximums. Gabriela was unlucky not to add to the total, going down 3-2 against the CGS number one.
Final score: Westfield 6, CGS 3.
Our third and last round of the day was against Highfield A, who had been relegated from division one. This was going to be an interesting match, as all the players know eachother well, and have played eachother many times before. On this occasion it was Ben and Lucas who excelled and both recored fine hat-tricks. Ben only dropped one end, whereas Lucas had a tough 3-2 (11-9 fifth-end) win against Hubert Malenda. Gabi didn't add to the scoresheet, but her game against Hubert was very encouraging, and if she continues to play the same way, results will come.
The fourth (and final) day is on Sunday 19th March. Ben, Gabi and Lucas are not available as they are on duty representing Northamptonshire Juniors, so Tor, Prithvi and Liam will represent Westfield.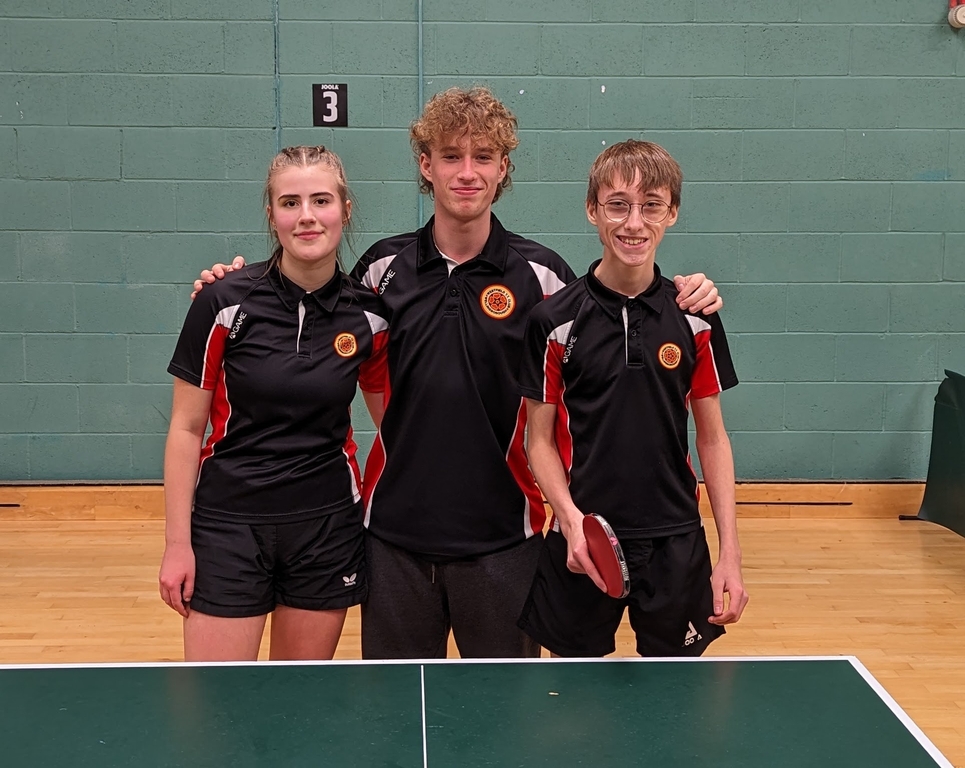 Left to Right: Gabriela Koszyk, Lucas Turnbull-Stubbs, Ben Aldridge