Details

Written by

Kevin Bird

Category:

News Updates
On Sunday 6th November, the cadet team of Prithvi Menon, Adam Koszyk and Tor West - Ley represented Westfield TTC in the National Cadet League at the Biringham Table Tennis Centre. Each player contested 2 games per match.
They started off their campaign against Birmingham 4 with a straight forward 6-0 win, with just Tor needing a 4th end to beat Ethan Ho. The second match was against Cheslyn Hay Tigers and, again, the trio proved too strong for their opponents with no game going beyond 3 ends.
Next up was Birmingham 3 which proved a tighter affair; Prithvi was first on against Gopal Rathore, winning in 4 ends followed by Tor who lost in 4 against Alvyn Baskaran; Adam didn't drop an end against Nokulus Lam and Pritvi went on to stage a comeback against Alvyn winning from 2-0 down; Adam was unsuccessful against Gopal but Tor won a tight final game to win the match 5-2.
Beechcroft Rd were the next opponents and this proved another comofortable affair with a 6-0 win.
Our final match of the day was against Colebridge A who were also boasting an unbeaten record after 4 matches. Their team of Aarif Li, Rex Ho and Angus Li proved too strong for our players and ran out a 6-0 win, but it proved a good learning experience and we hope to come back fighting in our next meeting.
The succesful first day left us second in the table to the leaders Colebridge A who we will play again in the second meeting later this year.
All 3 players excelled in their play and team spirit; thanks go to the parents for their transport and support during the day!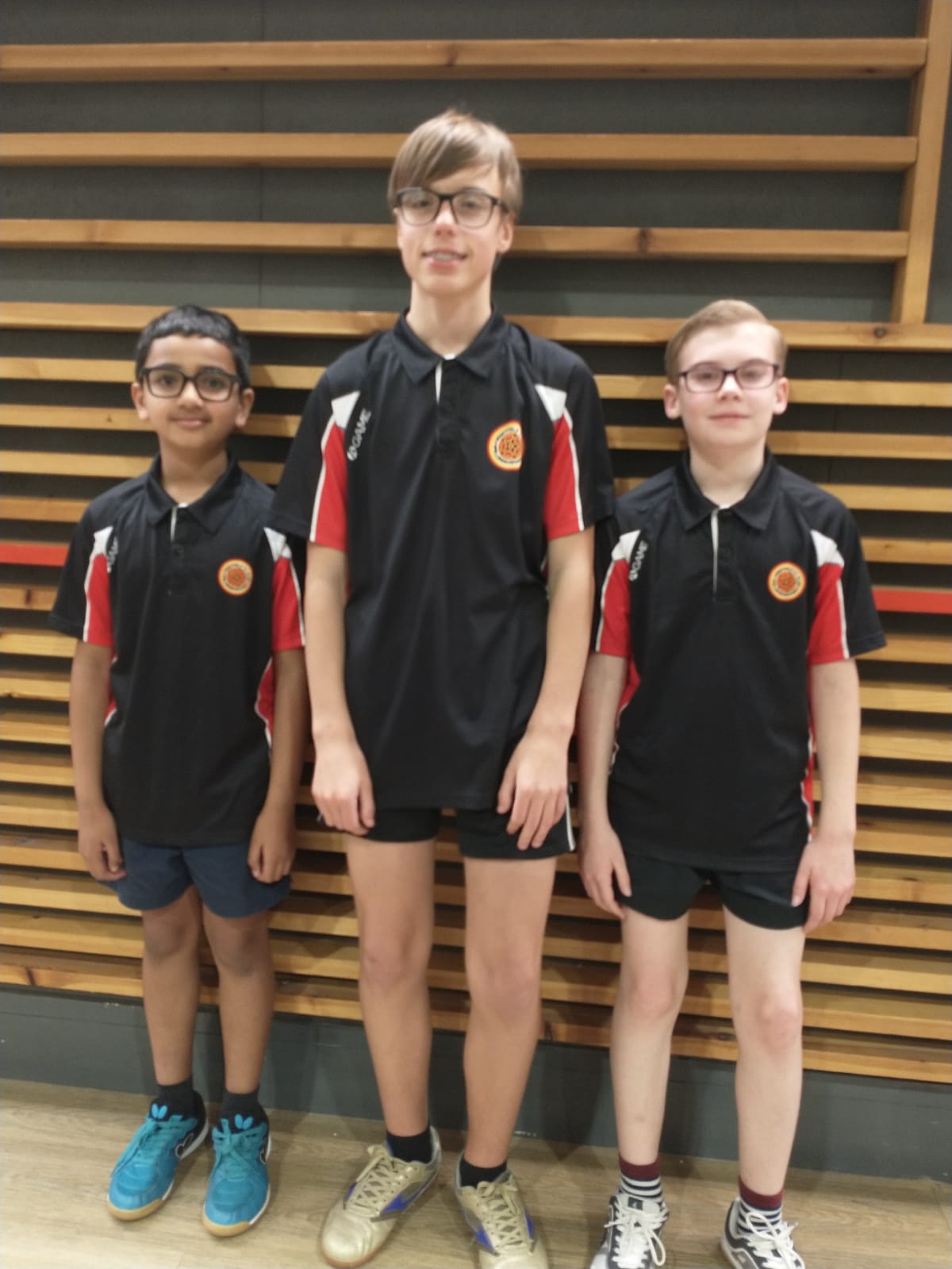 Details

Written by

Kevin Bird

Category:

News Updates
The Committee agree with Table Tennis England that we should, as a mark of respect, cancel all sessions on Monday 19th September.
Please note that sessions on Thursday 29th September will also need to be cancelled, due to the School holding a Parents' Open Evening for prospective pupils.
--
Kevin Bird
Wetfield TTC
Details

Written by

Kevin Bird

Category:

News Updates
Congratulations go to brother and sister Gabriela and Adam Koszyk. Both won their respective age categories at the Northants Cadet & Junior Invitational Tournament played at Westfield Table Tennis Club on Friday 2nd September 2022.
In the Junior Girls event, Gabriela won all her groups matches, to ease into the semi-final, which she also won 3-0. In the other girls group Swati Jethwa did likewise. This setup a final between the two (who are also good friends, and are closely matched in terms of ability). The match inevitably went to five ends, and in the final end Swati held the upper hand at 5-3, but Gabriela came back with some good play to take a run of 6 points and lead 9-5. Swati then had a run of points to make it deuce in the final end! But Gabriela held her nerve to take the next two points and become Junior Girls champion. It was a good match, played in the right spirit, and enjoyed by those in attendance.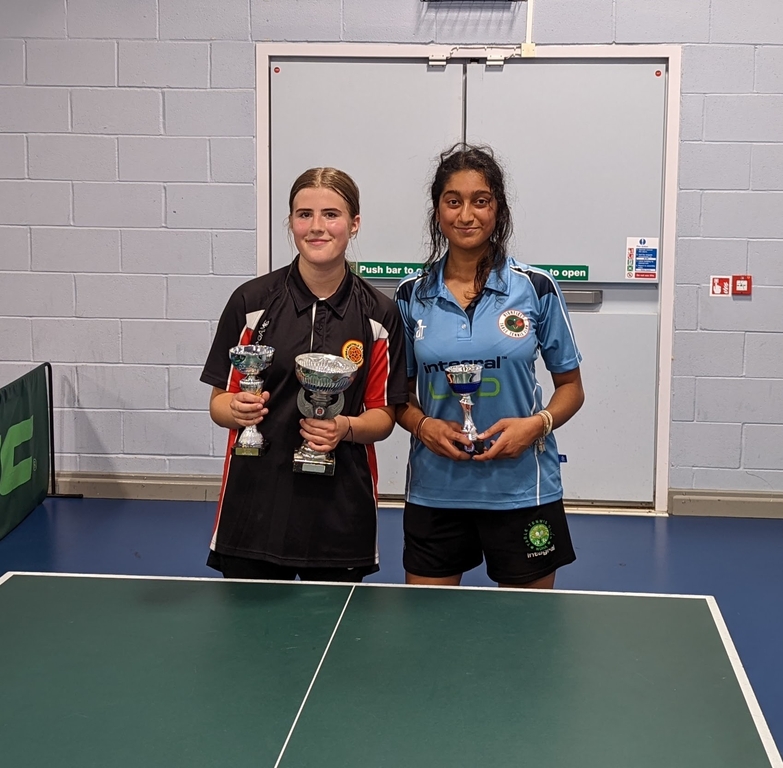 Left to Right: Gabriela Koszyk, Swati Jethwa
In the Cadet Boys event, Adam Koszyk met Prithvi Menon in the final. Both had cruised through their group matches, justifying their top seedings. In another close contest, the boys played some excellent table tennis, and the match was always going to be a close affair. So, another final goes to five ends. As with the Girls final, there was little between the players at the change of ends, but a run of points from Adam put him in the box seat at 10-6, which he duly converted to 11-6 and take the title.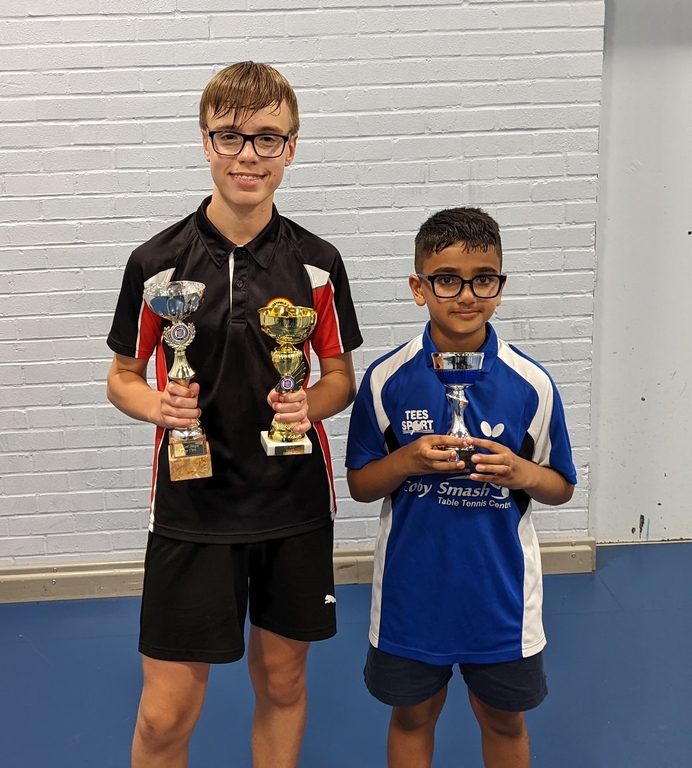 Left to Right: Adam Koszyk, Prithvi Menon.
Special mention should also go to the following players, who performed well on the night, and have showed real progress in recent month. Bart Koszyk, Tor Westley, Shivam Gpoal and Darsh Gopal. Keep up the good work.
--
Kevin Bird, Westfield TTC
Details

Written by

Kevin Bird

Category:

News Updates
There will be no Coaching or Open Practice session next Thursday (2nd June), due to it being a Bank Holiday. Monday's Coaching and Open Practice session goes ahead as normal.
My apologies to members who I incorrectly advised last Thursday!
Westfield TTC
Details

Written by

Kevin Bird

Category:

News Updates
The cadet team of Ben Aldridge, Adam Koszyk and Shivam Gopal started the final weekend in a strong position, 5 points behind the leaders Knighton Park, so all to play for.
We set off at a great pace with a 6-0 win in first match against Chandlers. The next match was against West Bridgeford, another 6-0 win with only one game going beyond 3 ends. Nottingham was the next opponent - proving slightly more challenge, but the players stepped up to the mark, winning 5-1 with Ben and Adam retaining their clean sheets. The final match was against Knighton Park,the team who started the day top. The boys played with great spirit with 4 of the matches going to 5 ends; Ben and Adam both lost very close games to the number one player, Faisal Mulla, and this time Shivam held his final game to 9 in the fifth, so keeping a clean sheet.
Despite this great set of results, we did not manage to catch Knighton Park and finished second, 2 points behind, in the Cadet League.
Well done to Ben, Adam and Shivam ,not only for the success, but the positive attitude and team work you have displayed. It has been a pleasure to coach you. Thanks must also go to their families support, with a special mention to Gabriela who assisted with the scoring sheets, umpiring and keeping us all on our toes.
Thanks
Ian
Details

Written by

Kevin Bird

Category:

News Updates
On Saturday 5th March, Alex, Adam and Ben played in the fourth (and last) round of National Junior League, at Nishkam School, Birmingham.
The boys were in first place in Division 3, having had a successful Day 3. Another excellent performance was required if we were to keep Lillington in second place.
Round 1 was against Cheslyn Hay Tigers, and we ran out 5-1 winners. Cheslyn's stand-out player was Callum Randell. He beat Ben in 5 (having been 2-0 down), but Alex played a superb match to edge Callum out 12-10 in the deciding end. The other matches were won in three ends, with Adam untroubled.
Round 2 opponents were Birmingham 4. A really close match, which ended in a 3-3 draw. Ben's double was the highlight, especially the 15-13 fifth-end win against Roan Paul, whom he'd lost to in Day 3. For Birmingham, Jayden Baker showed good improvement to beat Adam and Alex in close games. Alex was unlucky to draw a blank.
Round 3 opponents were Colebrige C. Another very close match (with 4 five-set matches) ending in a 3-3 draw. Adam was unlucky not to bag a double, losing his second five-ender of the match 21-19! All players won one match, and the result could have gone either way, so a draw was probably fair on both teams.
In Round 4 we faced Birmingham 3. Ben was back to his best with a double, ably supported by Alex and Adam, bagging one win each for a much needed 4-2 win.
Our last round was against the giants of Lillington (and I mean giants. One of the players was 6 foot 4!). Lillington had had an excellent day, and were now a couple of points ahead of us. A 5-1 or 6-0 win was required to win the league. It was not to be as Lillington ran out 4-2 winners. Alex's 11-9 fifth-end win (yes, another five-ender) was the stand-out performance of this match. Well played Alex.
Finishing runners-up was a great achievement, and I'm proud of the players performances during the season. We've shown consistent improvement over the season, and the boys can pleased with their efforts.
A special mention to Gabriela, who came along to support the team, and help with umpiring and filling in score sheets. Certainly made my job easier!
I look forward to doing it again next season.
--
Kevin Bird
Team Captain
Details

Written by

Kevin Bird

Category:

News Updates
Westfield Table Tennis Club will be running another TTKidz program , starting February 21st 2022. To book, please go to the TTKidz website:
https://www.ttkidz.co.uk/
Please share and spread the word.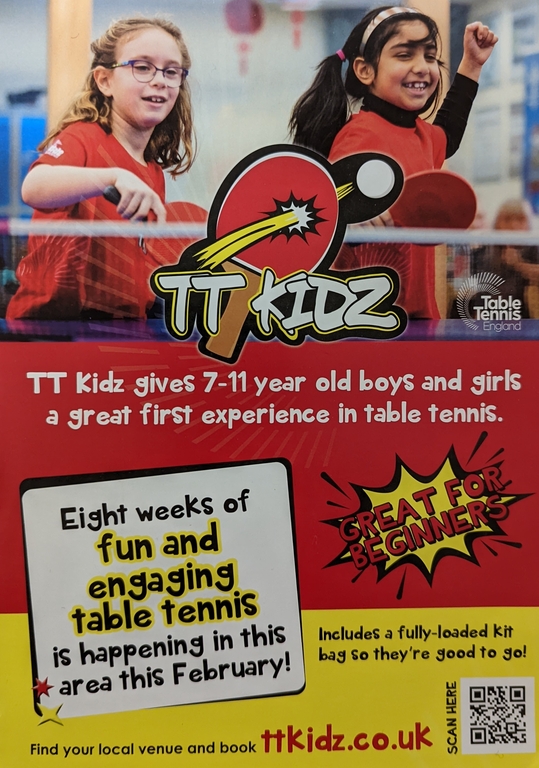 Details

Written by

Kevin Bird

Category:

News Updates
On Sunday 9th January, the cadet team of Ben Aldridge, Adam Koszyk and Shivam Gopal represented Westfield TTC in the National Cadet League at the Sycamore Club in Nottigham. With the withrdrawal of 3 Peterborough teams, the contest was changed from the expected 2 divisions back to one division of 5.
They started off their campaign against West Bridgeford with a 3 all draw; there were some very close games - Adam worked hard to come from 2-0 down to win in the fifth set; Ben was unlucky to lose a close game to 9 in the fifth and Shivam managed to close his game down in the fifth.
The next match against Cliffdale Chandlers was an easier affair which was won 5-1, with Ben and Adam winning all their games and Shivam dropping one very close game, each end by 11-9.
Their third match against Knighton Park was a tougher game with Adam picking up the only honours to lose 5-1 overall.
Nottingham was their final opponent - a great way to finish the day with a 6-0 win.
The succesful day left us second in the table, 5 points behind Knighton Park with a final weekend to play in March.
Well done to the players for their sustained efforts, especially as Adam and Ben had played in the Junior league the previous day.
With thanks to their families for their continued support.
Ian Yarnall
Team Captain
Details

Written by

Kevin Bird

Category:

News Updates
The same team of Ben Aldridge, Alex Elsom and Adam Koszyk travelled to Birmingham for day 3 of National Junior League.
Cheslyn Hay Tigers were our round one opponents, and we made short work of the match, winning 6-0 and only dropping one leg in the process! An excellent start.
Round two and our opponents were Birmngham 4. Another good performance and another 6-0 win, although Ben did find Roan Paul's style awkward, and had to dig deep to win 12-10 in the fifth!
Round three and our opponents are Colebridge C. First game saw Ben against Colebridge number two Hong Kit Ng (who proved to be a real handful). Ben was trailing 2-0 and 10-6, but some well executed points saw him level at deuce and then take the next two points to win the end. This gave Ben renewed energy and belief, and he won the next two ends 11-5, 11-8 for a great win. Alex had his own five-end battle, this time being pegged back from 2-0 to 2-2, but he managed to compose himself in the fifth for a fine win. Adam was on game three and he, like Ben, had to battle back from 2-0 down. He did so with some great play, which saw him ease through 11-9 in the fifth. Three close games all going Westfield's way. Ben and Alex both won their secind matches, but Adam found Hong Kit Ng too strong and went down 3-0. A battling 5-1 kept us at the top of the table.
Round four and we are up against the the Lillington 'Giants'. In all my years of table tennis, I have never seen a team full six foot (plus) juniors! Morgan Page proved the star man for Lillington, using his deadly backhand to beat both Adam and Alex. Ben was untroubled for his two wins.
The final round of the day saw us against Birmingham 3, who were a decent team. At this point Alex and Adam were starting to feel the effects of their earliers efforts and both struggled. Adam did managed to pick up one point but Alex drew a blank. No such worries for Ben, who cruised to a brace. Final result 3-3.
There were some great performances during the day's play, and for Ben to remain undefeated was very impressive. Roll on Day 4.
Details

Written by

Kevin Bird

Category:

News Updates
Just a quick note to confirm that the Club is NOT open this evening (Thursday 23rd December).
We hope to start the sessions again on Thursday Jan 6th 2022. Please keep an eye on our website for announcements.
Wishing you all a safe and merry Christmas.
Kind regards.
--
Kevin Bird
Westfield TTC
Recent Westfield News
November 2022

September 2022

May 2022

March 2022

February 2022

January 2022

December 2021

November 2021

September 2021

August 2021

July 2021

May 2021