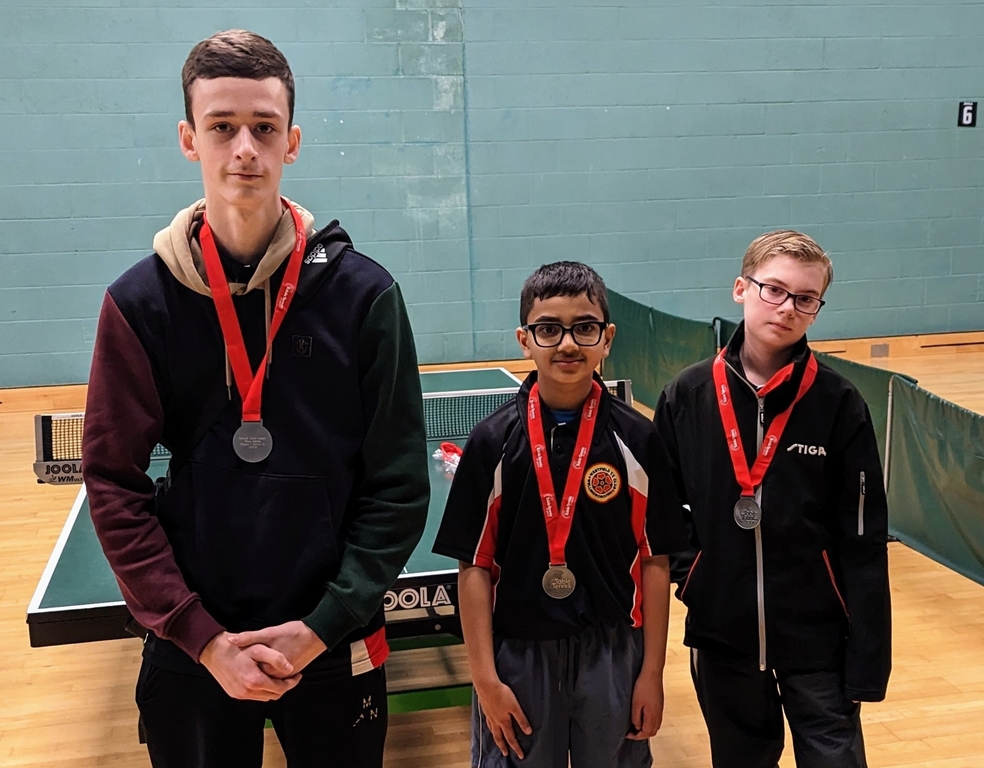 On Sunday 19th March, Westfield juniors travelled to Milton Keynes Table Tennis Club, to play Day 4 of NJL.
With Adam, Gabi, Ben and Lucas all respresenting Northamptonshire Juniors in Nottingham, Kettering Smash's Prithvi Menon and Liam Constable stepped in for their NJL debuts. With only 2 points separating the top three teams (Westfield in the middle), the Division 2 title was in the balance.
Our first math was against Banbury, who were top of the division and had the undefeated Toby Dow at number 1. Prithvi was first up for Westfield but he found the awkward serve and powerful forehand of Toby too hot to handle, and succumbed to a 3-1 defeat. Liam was next up, but he couldn't find any consistency early on, and also slipped to a 3-1 defeat. Tor had a great match against the Banbury number 3, and was unlucky to go down 3-2. Prithvi pulled one back to reduce the deficit, but Toby made short work of Tor to restore Banbury's 3 point advantage. We then staged a fight-back. Liam battled hard to win 11-9 in the fifth end against George Fyfe. Tor played as well as I've ever seen, to secure a 3-0 win over the Banbury number 2, and Prithvi made it a brace of wins with another comfortable 3-0 win. This left the match in the balane at 4-4. So it was Liam against Toby for the match, but Toby was in top form and raced to a 3-0 win, thus securing the match for Banbury.
Buoyed by their fighback, the boys went into the second match against CGS knowing that a good result would help take the pressure of the last fixture. And what a result! All three boys played well and we came away with an 8-1 win, the only reverse suffered by Tor at the hands of the CGS number 1, but that match could also have gone our way. On the other table, Banbury were also in no mood for mercy, and beat Highfield A by the same scoreline.
Going into our last match against local rivals Highfield A, we knew that we only needed 3 points to secure runners-up spot. Prithvi was the stand-out performer, cruising to a hat-trick without dropping a leg. Liam had a real battle in all his matches, winning one of his games 3-1, but lost 11-8 in the fifth to both Hubert and Rushabh. Tor was also on the wrong end of two five-set defeats, but can count himsef very unlucky to lose 11-9 to Rushabh. But 4 points was good enough to secure runners-up spot in division 2, and the medals were well-deserved.
Many thanks to Milton Keynes Table Tennis Club for hosting, and to the parents of Prithvi, Liam and Tor, who all atteneded and supported their child.
--
Kevin Bird
20.3.2023