Details

Written by

Kevin Bird

Category:

News Updates
On Saturday 5th March, Alex, Adam and Ben played in the fourth (and last) round of National Junior League, at Nishkam School, Birmingham.
The boys were in first place in Division 3, having had a successful Day 3. Another excellent performance was required if we were to keep Lillington in second place.
Round 1 was against Cheslyn Hay Tigers, and we ran out 5-1 winners. Cheslyn's stand-out player was Callum Randell. He beat Ben in 5 (having been 2-0 down), but Alex played a superb match to edge Callum out 12-10 in the deciding end. The other matches were won in three ends, with Adam untroubled.
Round 2 opponents were Birmingham 4. A really close match, which ended in a 3-3 draw. Ben's double was the highlight, especially the 15-13 fifth-end win against Roan Paul, whom he'd lost to in Day 3. For Birmingham, Jayden Baker showed good improvement to beat Adam and Alex in close games. Alex was unlucky to draw a blank.
Round 3 opponents were Colebrige C. Another very close match (with 4 five-set matches) ending in a 3-3 draw. Adam was unlucky not to bag a double, losing his second five-ender of the match 21-19! All players won one match, and the result could have gone either way, so a draw was probably fair on both teams.
In Round 4 we faced Birmingham 3. Ben was back to his best with a double, ably supported by Alex and Adam, bagging one win each for a much needed 4-2 win.
Our last round was against the giants of Lillington (and I mean giants. One of the players was 6 foot 4!). Lillington had had an excellent day, and were now a couple of points ahead of us. A 5-1 or 6-0 win was required to win the league. It was not to be as Lillington ran out 4-2 winners. Alex's 11-9 fifth-end win (yes, another five-ender) was the stand-out performance of this match. Well played Alex.
Finishing runners-up was a great achievement, and I'm proud of the players performances during the season. We've shown consistent improvement over the season, and the boys can pleased with their efforts.
A special mention to Gabriela, who came along to support the team, and help with umpiring and filling in score sheets. Certainly made my job easier!
I look forward to doing it again next season.
--
Kevin Bird
Team Captain
Details

Written by

Kevin Bird

Category:

News Updates
Westfield Table Tennis Club will be running another TTKidz program , starting February 21st 2022. To book, please go to the TTKidz website:
https://www.ttkidz.co.uk/
Please share and spread the word.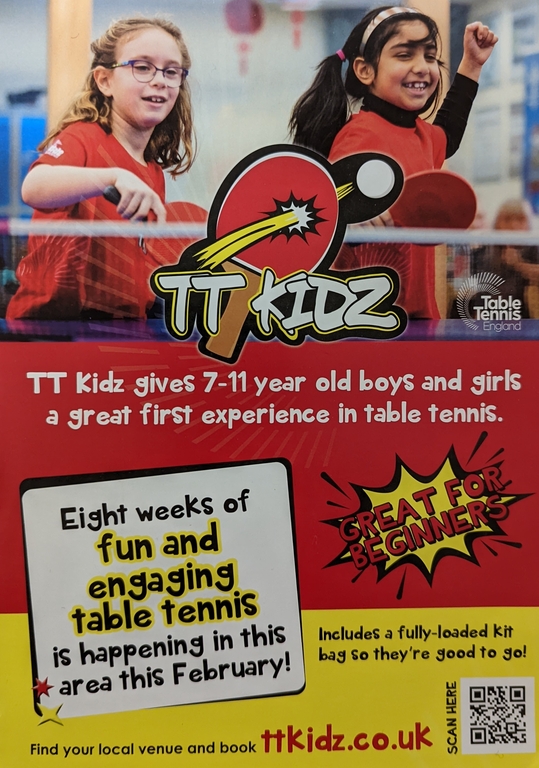 Details

Written by

Kevin Bird

Category:

News Updates
On Sunday 9th January, the cadet team of Ben Aldridge, Adam Koszyk and Shivam Gopal represented Westfield TTC in the National Cadet League at the Sycamore Club in Nottigham. With the withrdrawal of 3 Peterborough teams, the contest was changed from the expected 2 divisions back to one division of 5.
They started off their campaign against West Bridgeford with a 3 all draw; there were some very close games - Adam worked hard to come from 2-0 down to win in the fifth set; Ben was unlucky to lose a close game to 9 in the fifth and Shivam managed to close his game down in the fifth.
The next match against Cliffdale Chandlers was an easier affair which was won 5-1, with Ben and Adam winning all their games and Shivam dropping one very close game, each end by 11-9.
Their third match against Knighton Park was a tougher game with Adam picking up the only honours to lose 5-1 overall.
Nottingham was their final opponent - a great way to finish the day with a 6-0 win.
The succesful day left us second in the table, 5 points behind Knighton Park with a final weekend to play in March.
Well done to the players for their sustained efforts, especially as Adam and Ben had played in the Junior league the previous day.
With thanks to their families for their continued support.
Ian Yarnall
Team Captain
Recent Westfield News
November 2023

August 2023

April 2023

March 2023

February 2023

January 2023

December 2022

November 2022

September 2022

May 2022

March 2022

February 2022