Details

Written by

Kevin Bird

Category:

News Updates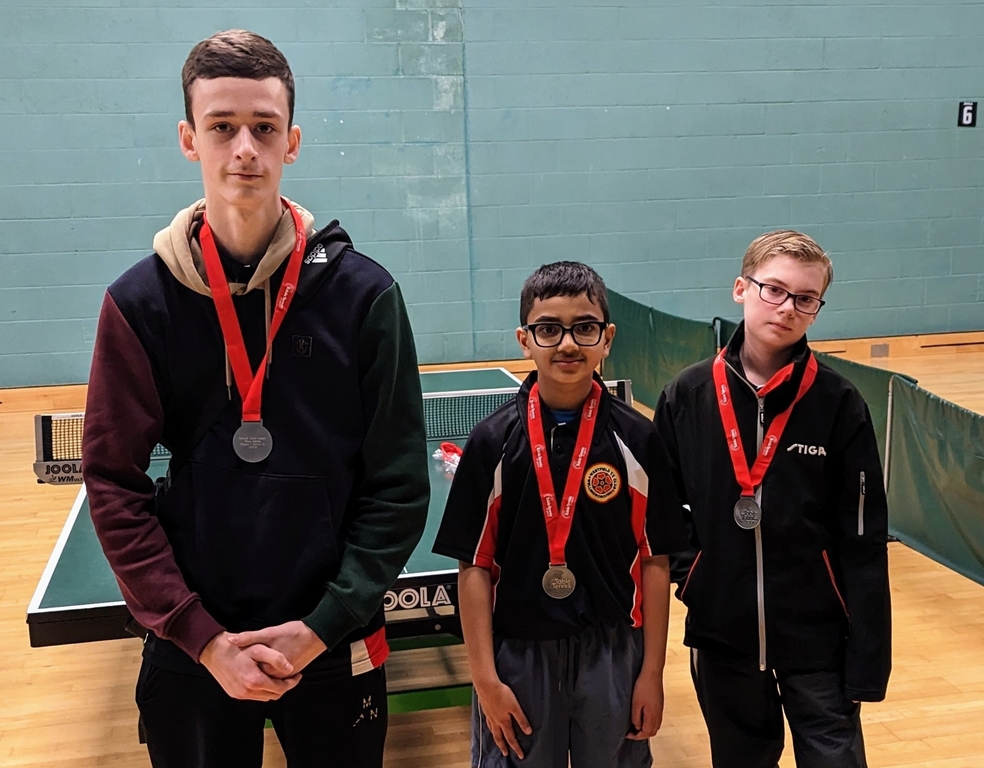 On Sunday 19th March, Westfield juniors travelled to Milton Keynes Table Tennis Club, to play Day 4 of NJL.
With Adam, Gabi, Ben and Lucas all respresenting Northamptonshire Juniors in Nottingham, Kettering Smash's Prithvi Menon and Liam Constable stepped in for their NJL debuts. With only 2 points separating the top three teams (Westfield in the middle), the Division 2 title was in the balance.
Our first math was against Banbury, who were top of the division and had the undefeated Toby Dow at number 1. Prithvi was first up for Westfield but he found the awkward serve and powerful forehand of Toby too hot to handle, and succumbed to a 3-1 defeat. Liam was next up, but he couldn't find any consistency early on, and also slipped to a 3-1 defeat. Tor had a great match against the Banbury number 3, and was unlucky to go down 3-2. Prithvi pulled one back to reduce the deficit, but Toby made short work of Tor to restore Banbury's 3 point advantage. We then staged a fight-back. Liam battled hard to win 11-9 in the fifth end against George Fyfe. Tor played as well as I've ever seen, to secure a 3-0 win over the Banbury number 2, and Prithvi made it a brace of wins with another comfortable 3-0 win. This left the match in the balane at 4-4. So it was Liam against Toby for the match, but Toby was in top form and raced to a 3-0 win, thus securing the match for Banbury.
Buoyed by their fighback, the boys went into the second match against CGS knowing that a good result would help take the pressure of the last fixture. And what a result! All three boys played well and we came away with an 8-1 win, the only reverse suffered by Tor at the hands of the CGS number 1, but that match could also have gone our way. On the other table, Banbury were also in no mood for mercy, and beat Highfield A by the same scoreline.
Going into our last match against local rivals Highfield A, we knew that we only needed 3 points to secure runners-up spot. Prithvi was the stand-out performer, cruising to a hat-trick without dropping a leg. Liam had a real battle in all his matches, winning one of his games 3-1, but lost 11-8 in the fifth to both Hubert and Rushabh. Tor was also on the wrong end of two five-set defeats, but can count himsef very unlucky to lose 11-9 to Rushabh. But 4 points was good enough to secure runners-up spot in division 2, and the medals were well-deserved.
Many thanks to Milton Keynes Table Tennis Club for hosting, and to the parents of Prithvi, Liam and Tor, who all atteneded and supported their child.
--
Kevin Bird
20.3.2023
Details

Written by

Kevin Bird

Category:

News Updates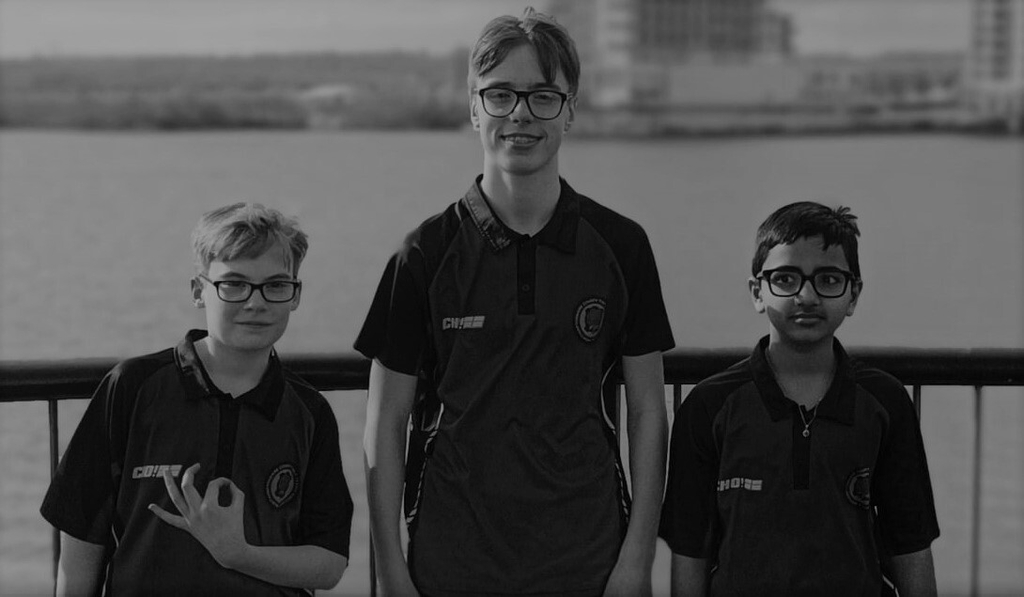 On Sunday 12 th March, the cadet team of Prithvi Menon, Adam Koszyk and Tor West-Ley
represented Westfield TTC in the final round of the National Cadet League at the
Birmingham Table Tennis Centre. Having gained promotion over the first two rounds to the
top division, there was greater challenge.
They started off their day against Colebridge A; although a 6-0 loss, most of the games were
close.
Next up was Colebridge B, which proved a tighter affair, finishing with a 4-2 loss. Prithvi
and Tor won one a piece and three games went to fifth end deciders – so close!
Knighton Park was the next opponent, and this provided the first success of the day with a 4-
2 win. Two wins each for Adam and Prithvi and two very close games for Tor gave the team
a good boost.
Our penultimate match of the day was against Birmingham 1 with Prithvi taking the only win
resulting in a 5-1 loss. Again, all games were hard fought and proved the determined spirit of
our team. We finished the day on a well-earned high with a 4-2 win against Birmingham 2.
All the players have improved immensely over this season and, on another day, the results
could easily have gone our way. It was a pleasure to coach the players over this season.
Thanks, again, to their families for their help with transport and support.
Details

Written by

Kevin Bird

Category:

News Updates
Sunday 26th February was Day 3 of National Junior League at Milton Keynes.
With Westfield players Adam Koszyk and Tor West-Ley away in Cardiff respresenting Northamptonshire, Lucas Turnbull-Stubbs kindly stepped in.
Our first match of the day was against Banbury, who had been promoted from Division 3. This turned out to be a very close match and Banbury's number one player - Toby Dow - proved to be the difference between the two teams, as he won all three of his matches. Lucas played well for his two wins and Ben and Gabi both beat the Banbury number 3.
Final score: Banbury 5, Westfield 4.
Our second match was against CGS, whom we had played in the previous round. Good performances from Ben and Lucas saw them both record maximums. Gabriela was unlucky not to add to the total, going down 3-2 against the CGS number one.
Final score: Westfield 6, CGS 3.
Our third and last round of the day was against Highfield A, who had been relegated from division one. This was going to be an interesting match, as all the players know eachother well, and have played eachother many times before. On this occasion it was Ben and Lucas who excelled and both recored fine hat-tricks. Ben only dropped one end, whereas Lucas had a tough 3-2 (11-9 fifth-end) win against Hubert Malenda. Gabi didn't add to the scoresheet, but her game against Hubert was very encouraging, and if she continues to play the same way, results will come.
The fourth (and final) day is on Sunday 19th March. Ben, Gabi and Lucas are not available as they are on duty representing Northamptonshire Juniors, so Tor, Prithvi and Liam will represent Westfield.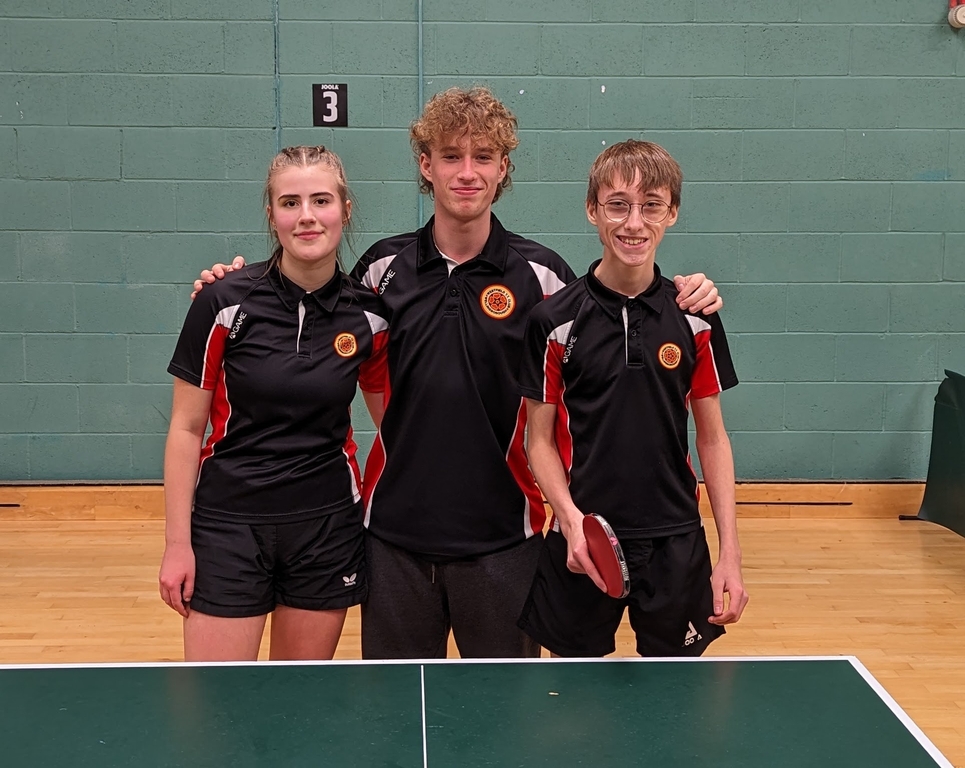 Left to Right: Gabriela Koszyk, Lucas Turnbull-Stubbs, Ben Aldridge
Recent Westfield News
August 2023

June 2023

April 2023

March 2023

February 2023

January 2023

December 2022

November 2022

September 2022

May 2022

March 2022

February 2022

January 2022