Details

Written by

Kevin Bird

Category:

News Updates
Day 1 of National Junior League was played at Westfield Table Tennis Club on Saturday 18th October. 20 teams from around the region battled it out across four divisions.
League tables and player averges for each division can be found below.
Details

Written by

Kevin Bird

Category:

News Updates
Westfield Table Tennis Club played host to the 2019-20 Northants County Junior invitation tournament on Sunday 1st September. This event is used by the Northants Coaching team as the basis for selection to attend County squad coaching sessions and selection to represent Northants in the County Championships. There was a slight change to the event from the previous couple of years with the boy's tournament going being split into seperate cadet (under 15) and junior (under 18) categories. Invites had been sent to all eligible players (59 invites were sent out), which resulted in 27 players accepting their opportunity. Ten players competed in the boy's cadet event, there were 13 entrants in the boy's junior event, with five players in the girl's event.
Girls Event
In the girl's event, the reigning champion Anna Wilson went in as the clear favourite and in a round-robin event she fully justified her number 1 seeding, winning all four of her matches 3-0 to retain her title. The battle for second place was a close affair which saw a three-way tie between Olivia Berardi-Ross, Natalia Read and Swati Jethwa, with all three players picking up two wins apiece. On countback, it was Berardi-Ross who claimed the runner-up position ahead of Jethwa with Read in fourth place, with youngster Rachel Beswick in fifth.
Boy's cadet event
The ten players in the cadet boy's event were divided into two groups of five players, followed by playoffs between the players who finished in the corresponding position in each group to decide the final positions. Group A consisted of Aston Fernandes, Ansh Shah, Ben Aldridge, Lucas Turnbull-Stubbs and Joe Corner, with group B made up of Sam Pedley, Samuel Tattersall, Rushabh Patel, Alex Elsom and Adam Koszyk.
Aldridge tool control of Group A, winning all of his matches 3-0 but the battle for second was close and, just like the girl's event, was decided on countback after a three-way tie. Once the maths had been worked out, it was Turnbull-Stubbs who claimed second spot, with Fernandes in third and Shah in fourth, with Corner taking fifth place.
Group B followed the same path as Group A with Pedley winning all four of his matches (for the loss of two games), and another three-way tie for second position. Tattersall did just enough to take the runner-up spot, pushing Patel into third and Elsom into fourth place, with Koszyk finishing fifth.
The playoffs saw Corner defeat Koszyk 3-2 in the 9th/10th playoff, Shah saw off Elsom 3-1 in the 7th/8th place match, with Fernandes getting the better of Patel 3-2 to win the 5th/6th place match. Tattersall earned a comprehensive 3-0 win over Turnbull-Stubbs in the 3rd/4th place match. In the match to decide the overall Cadet champion, Aldridge proved to be too experienced (despite his young age) for Pedley and duly won 3-0 (11-6. 11-9, 11-4) to take the title.
Boy's junior event
With 13 players competing in the junior age category, the players were again placed in to two groups. Group A consisted of seven players including top seed Alex Cochrane, Felix Machin-Bradbury, Virgil Birch-Annan Vincent Pham, Jack King, George Marlow and Jamie Potter. Cochrane. Machin-Bradbury and Birch-Annan had all represented Northants in the County Junior Championships last season, whilst Pham, King and Marlow were all part of the County Squad coaching sessions last season. As per the cadet event, playoffs between the players in the corresponding positions in each group would decide the final placings.
As expected, Cochrane took pole position in this group with Birch-Annan and Machin-Bradbury the only players to take a game off the top seed. Second place in this group also went with the seeding as Machin-Bradbury confirmed his place in the playoff for 3rd/4th place, but only after fighting back from 2-1 down to Pham in his third match in the group. Going into the final round of matches, the battle for third place was between Northampton team-mates Pham and Birch-Annan which Pham won 3-0 as the placings continued to go with the seeding in this group. And Group A continued to go with the seedings with King taking fifth place, Marlow finishing sixth and Potter seventh.
Whereas Group A had several players in it that were already involved in the Northants Junior team and squad last season, only second seed Jacob Tattersall and fourth seed Danny Verrall had been involved in the County setup last season. These two players convincingly negotiated their way past their group rivals Ben Sefton, Ollie Redman, Ted Eastman and Joshua Adams before facing off against each other in the final match of the group to decide top spot. Verrall has very recently changed his style of play and is now looking to play a defensive game including using long pimples on his backhand, but a lack of practice in this new style meant that Tattersall scored a convincing 3-1 win to set up a clash with Cochrane for the right to be crowned as Northants Junior Champion. Eastman took third place ahead of Adams in fourth with Redman finishing fifth and Sefton in sixth place.
In the playoffs, Sefton defeated Marlow in the 11th/12th place match, King picked up a 3-1 win over Redman in the 9th/10th place game, and Birch-Annan also gained a 3-1 win over Adam in the 7th/8th place playoff. Eastman completed a successful day by coming back from a 0-2 deficit to defeat Pham 3-2 in the 5th/6th place playoff and another comeback from 2-0 behind saw Machin-Bradbury defeat Verrall 3-2 in the 3rd/4th place match. The top two seeds came together in the final match of the day as Cochrane faced off against Tattersall to decide who would take this season's title and it was Cochrane who took the honours with a comprehensive 11-8. 13-11, 11-4 success.
Ben Aldridge - Northants Cadet Champion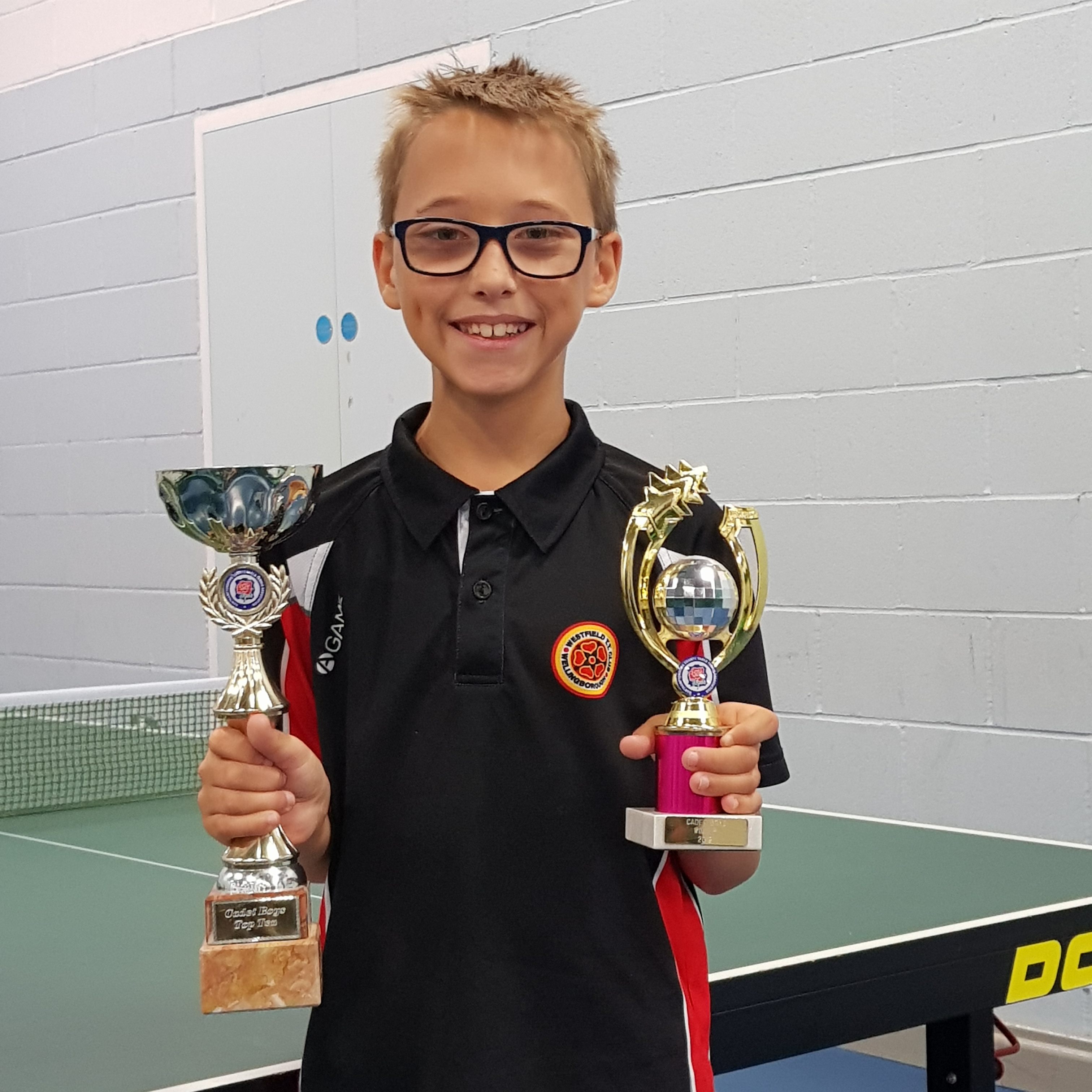 Details

Written by

Kevin Bird

Category:

News Updates
TTKidz is coming to Westfield. To book your place, follow the link below.
https://www.ttkidz.co.uk/event/westfield-table-tennis-club/?tickets_process=#buy-tickets