Day 1 - Saturday 16th October
The Westfield trio of Ben Aldridge, Alex Elsom and Adam Koszyk travelled to Birmingham to play the first round of National Junior League.
Round 1 saw them play Birmingham Academy 3. Ben and Alex both won twice, and Adam won his second match after losing a close five-ender in his first.
Round 2 was against Cheslyn Hay Tigers. Again, Westfield ran out 5-1 winners, with Ben and Adam wining two apeice and Alex picking up the single.
Colebridge B were our opponents in Round 3, and werre much stronger opposition. Colebridge were 5-1 winners, with Aex picking up a consolation win in game 6.
Round 4 and Westfield were back on the wining trail, this time against Birmginham 4. Alex, Ben and Adam all picked up two wins to run out 6-0 winners.
Last round of the day was against a very strong Lillington A. Ben was the only player able to pick up a leg, as Lillington showed their class and ran out comfortable 6-0 winners.
Day 2 - Saturday 27th October
The same trio of players returned to Birmingham for Day 2 of NJL. This time we were placed into Division 2. With six teams in the division, there were fice rounds of matches.
Round 1 saw us play Birmingham 3. This was the second time we had played this team, and this time we went one better and won 6-0.
Round 2 was against Birmingham 2, who justified their higher ranking and ran out 4-2 winners. The result was not a fair reflection of the match, with a lot of close ends that didn't go our way.
Next up Lillington B, who ran out 6-0 winners. Again, some ecellent table tennis was played without reward.
Round 4 saw us play Cheslyn Hay Lions, and again, another battling display by the boys but for no reward, Cheslyn running out 6-0 winners.
Our last round was against Bronsgrove, who arguably had the two best players in the division, if not the league. Afer so many close games and six hours of table tennis, all three boys were showing signs of fatigue. Alex managed to keep it together for his last match and won 3-2 to pick up a consolation point.
Pictures of the result sheets can be found below.
The boys have been a pleassure to coach, and special menton should also go to Gabriela Koszyk who volunteered to umpire throughout the day.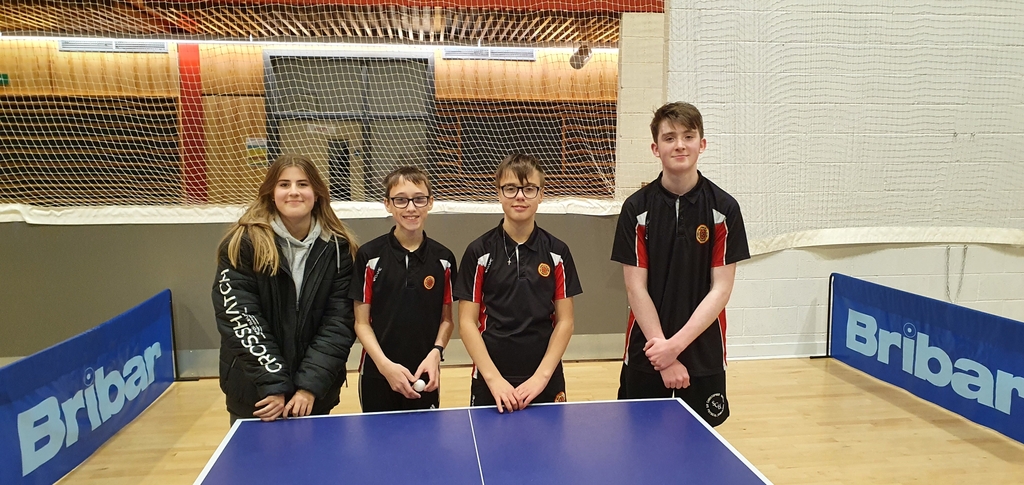 Left to right: Gabriela Koszyk, Ben Aldridge, Adam Koszyk, Alex Elsom.