Details

Written by

Kevin Bird

Category:

News Updates
Sunday 26th February was Day 3 of National Junior League at Milton Keynes.
With Westfield players Adam Koszyk and Tor West-Ley away in Cardiff respresenting Northamptonshire, Lucas Turnbull-Stubbs kindly stepped in.
Our first match of the day was against Banbury, who had been promoted from Division 3. This turned out to be a very close match and Banbury's number one player - Toby Dow - proved to be the difference between the two teams, as he won all three of his matches. Lucas played well for his two wins and Ben and Gabi both beat the Banbury number 3.
Final score: Banbury 5, Westfield 4.
Our second match was against CGS, whom we had played in the previous round. Good performances from Ben and Lucas saw them both record maximums. Gabriela was unlucky not to add to the total, going down 3-2 against the CGS number one.
Final score: Westfield 6, CGS 3.
Our third and last round of the day was against Highfield A, who had been relegated from division one. This was going to be an interesting match, as all the players know eachother well, and have played eachother many times before. On this occasion it was Ben and Lucas who excelled and both recored fine hat-tricks. Ben only dropped one end, whereas Lucas had a tough 3-2 (11-9 fifth-end) win against Hubert Malenda. Gabi didn't add to the scoresheet, but her game against Hubert was very encouraging, and if she continues to play the same way, results will come.
The fourth (and final) day is on Sunday 19th March. Ben, Gabi and Lucas are not available as they are on duty representing Northamptonshire Juniors, so Tor, Prithvi and Liam will represent Westfield.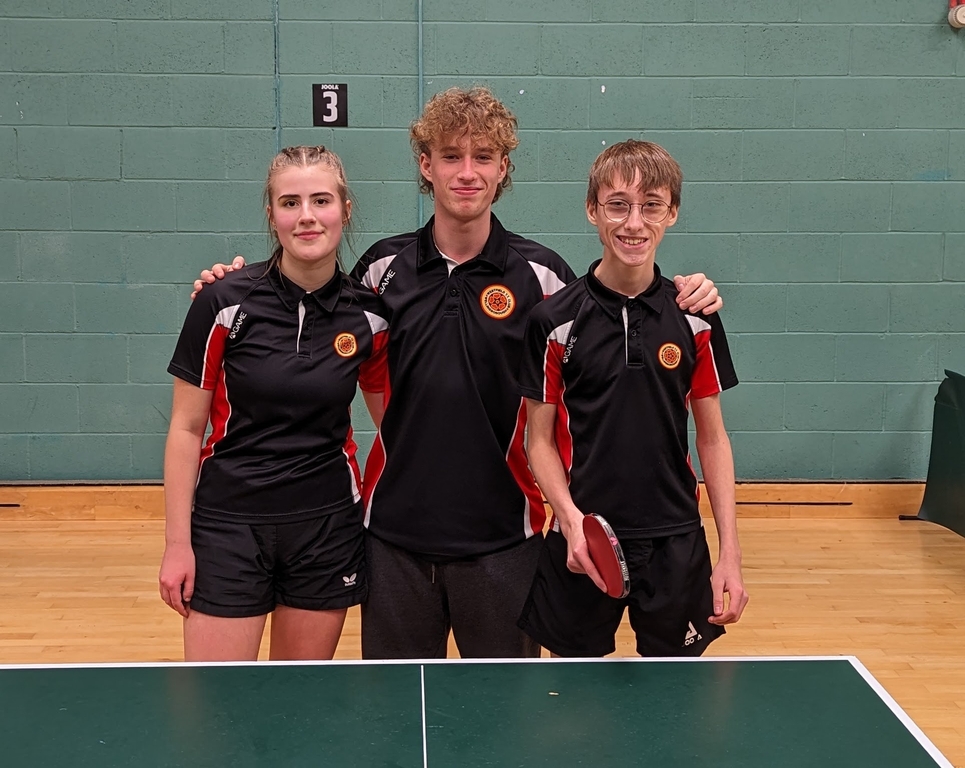 Left to Right: Gabriela Koszyk, Lucas Turnbull-Stubbs, Ben Aldridge
Details

Written by

Kevin Bird

Category:

News Updates
Day 2 - Division 2: 22nd January 2023
The Westfield team of Ben Aldridge, Adam Koszyk, Gabriela Koszyk and Coach Kevin Bird, travelled to Milton Keynes Table Tennis Club, to play Day 2 of National Junior League.
The team had gained promotion from Division 3, so I was looking forward to some competitive table tennis.
The division consisted of four teams, each with three players. Each match consisted of 9 singles, so everyone played eachother. The matches were played on one table, so a long day was in store.
Round 1: Luton Table Tennis Club
Luton had been relegated from Division 1, so we were expecting a good match. Disappointingly, we lost 8-1, which I don't feel is a reflection of our ability. It felt like we were caught cold (which shoudn't have been the case as we arrived in good time!). We made far too many unforced errors, and at times, didn't seem to have the self belief needed to win matches. Adam did show glimmers of his ability by picking up our only point.
Round 2: CGS Table Tennis Club
This round saw us play against three payers who all sported some kind of combination bat (reverse and pimples, reverse and anti-spin?) - which is unusual at this standard. Adam showed maturity beyond his years and posted a fine hat-trick. Ben followed up with a brace, as it took him a bit longer to get used to the pimples. Gabriela didn't add to the scoreline, but did gain valuable experience playing against this type of style. We ran out 5-4 winners, which I think was the right scoreline.
Round 3: Milton Keynes B
Our last round was against Milton Keynes B. Ben and Adam were now fully warmed up and playing to the standard I would expect, with both players only dropping a single end on their way to comfortable hat-tricks. Gabriela came very close to adding to the Westfield scoreline when losing 11-7 in the fifth end to the Milton Keynes number 2. A 6-3 win was a good finish to a long day.
The divisions will now be fixed for days 3 and 4, so we'll compete in Division 2, and look forward to the challenge.
Details

Written by

Kevin Bird

Category:

News Updates
On Sunday 8th January, Westfield cadets travelled to Birmingham to play in round three of National Cadet League.
With Adam Koszyk unavailable, Matthew Swarbrick kindly stepped up, and was joined by Prithvi Menon and Tor-West-Ley.
The team was in for a tough day, as they had rightly been promoted to Division One, on the back of previous good results.
Our first match was against title favourites Colebridge A, who justified that favouritism by sweeping us aside 6-0, and in the process did not drop of leg.
Colebridge B were next, and although the scoreline was again 6-0, Tor was unlucky not to pick up a win. Having been 2-0 down, he played really well to level the match, but just ran out of steam to go down 7-11 in the decider.
Third round was against Knighton Park. Prithvi picked up our first point, but really should have had a brace, when going down 9-11 in the deciding game againsgt the Knighton Park No. 2. Matthew was starting to find his range and played really well in his 2-3 defeat to the KP No. 3. On another day this fixture could have been a 3-3 draw, rather than a 5-1 reverse.
Round four, and we are playing a strong Birmingham 1 side. They made short work of us, only dropping two ends on their way to a 6-0 victory.
Last round of the day was against Birmingham 2, and unfortunately it was another 6-0 defeat, although Prithvi and Tor were both unlucky to lose their matches deuce in the deciding end!
Overall, it was a challenging day, but the boys enjoyed themselves, and now know what to work on to progress to the next level.
Thanks go to Natthew's and Prithvi's parents for help with transport, and I wish the boys well for Day 4, later in the year.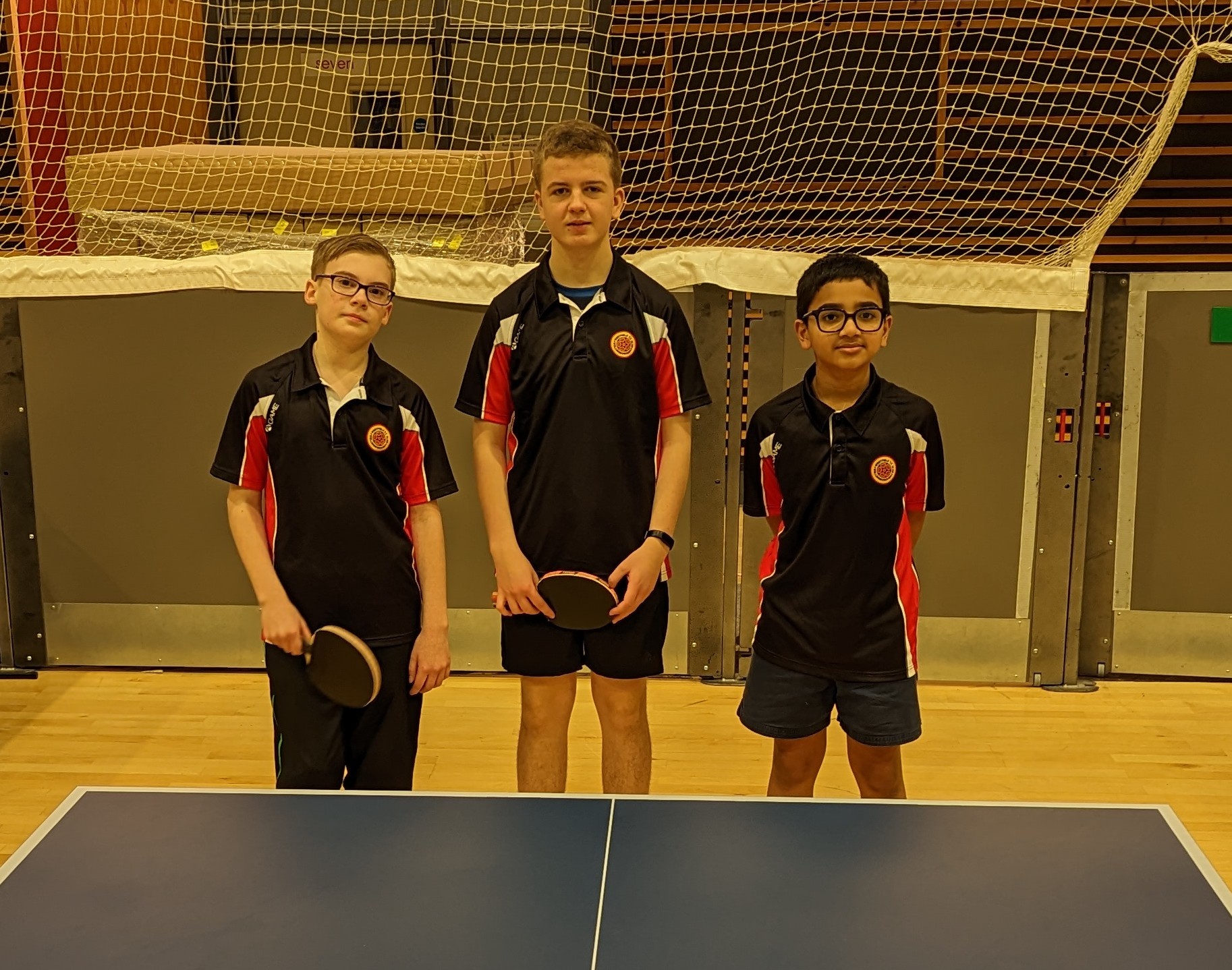 Westfield (Left to right): Tor West-Ley, Matthew Swarbrick, Prithvi Menon
Recent Westfield News
November 2023

August 2023

April 2023

March 2023

February 2023

January 2023

December 2022

November 2022

September 2022

May 2022

March 2022

February 2022